Call Us On:
USA 1-718-560-3033
UK 44-1223-655-328
HOW TO CAPTURE 100% OF YOUR WEBSITE VISITORS
AND TURN THEM INTO NEW CUSTOMERS
✓
STOP Losing 90% Of Your Website Visitors To
Your Competition.



✓

This FREE Report Shows You The 1 Key Tool That Captures 100% Of Your Visitors.



✓

Learn How To Instantly Boost NEW Customer Conversion



✓

These
Can Give You Results In 48Hrs.
We Hate Spam And Promise To Keep Your Email Address Safe
Free Exclusive Report Reveals
"Everything You MUST Know To Turn Website Visitors Into Buyers"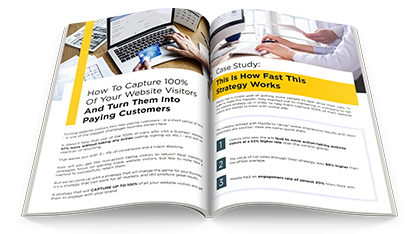 Are you frustrated by the high bounce rate on your website? Are you losing potential customers to your competition without even knowing it? It's time to take action and turn those lost visitors into loyal customers!

Introducing Our FREE Report:

🔑 The 1 Key Tool That Captures 100% Of Your Visitors 🔑
In this comprehensive report, we reveal the powerful tool that will revolutionize your website's performance and help you stop losing 90% of your valuable visitors to your competition. Say goodbye to missed opportunities and hello to increased conversions and revenue!

What You'll Discover:

✓ Instantly Boost NEW Customer Conversion: Learn how to transform casual website visitors into eager customers. With this tool, you can make every visit count and increase your customer base like never before.
✓ Results in Just 48 Hours: Imagine seeing a significant improvement in your website's performance in as little as 48 hours. We'll show you how to implement this tool quickly and start reaping the benefits right away.
Don't let your competition continue to steal your potential customers. It's time to level the playing field and take control of your website's success. Download our FREE report today and unlock the secrets to capturing 100% of your visitors!

Get Started Now!
GET STARTED NOW GET THE FREE REPORT